Deptford Lounge Library and School, London
15.6.2020

Designed by Pollard Thomas Edwards architects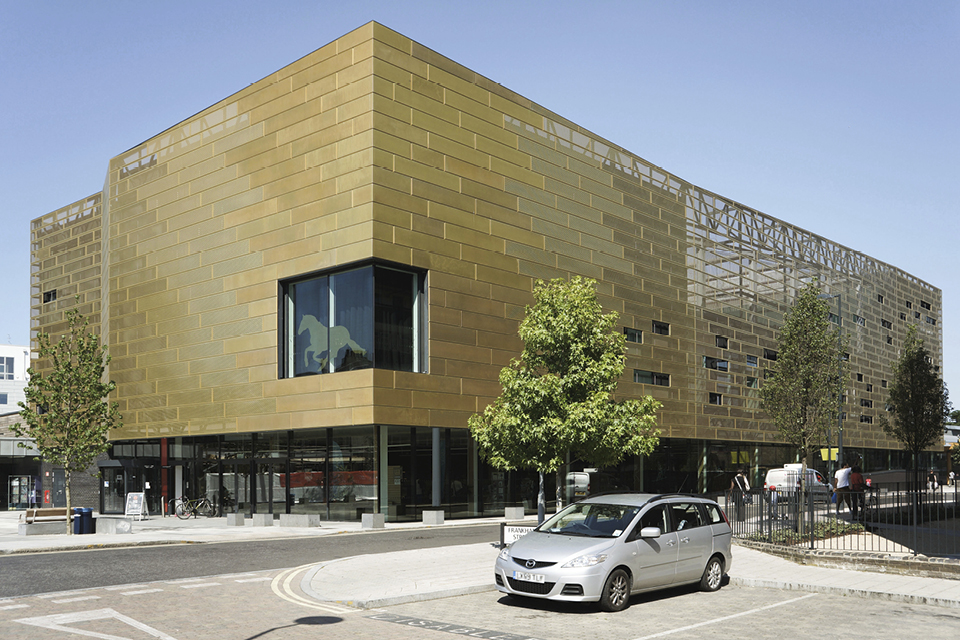 "We sought an inspiring material, with reflective properties that would give the building a jewel-like quality set against its main street context"
The Deptford Lounge – wrapped in a perforated skin of Nordic Royal golden copper alloy – demonstrates a new typology of school and community building, and gives a civic focus to the local community.
Developed from an initial brief for a state-of-the-art public library and a new building for the relocated Tidemill Primary School, Pollard Thomas Edwards architects' (PTEa) scheme creates a highly innovative mix of co-located uses on a single site. The complex houses facilities shared between the new primary school and the whole community, via the Deptford Lounge library, including a rooftop sports pitch, a flexible suite of assembly spaces and a dining hall and kitchen.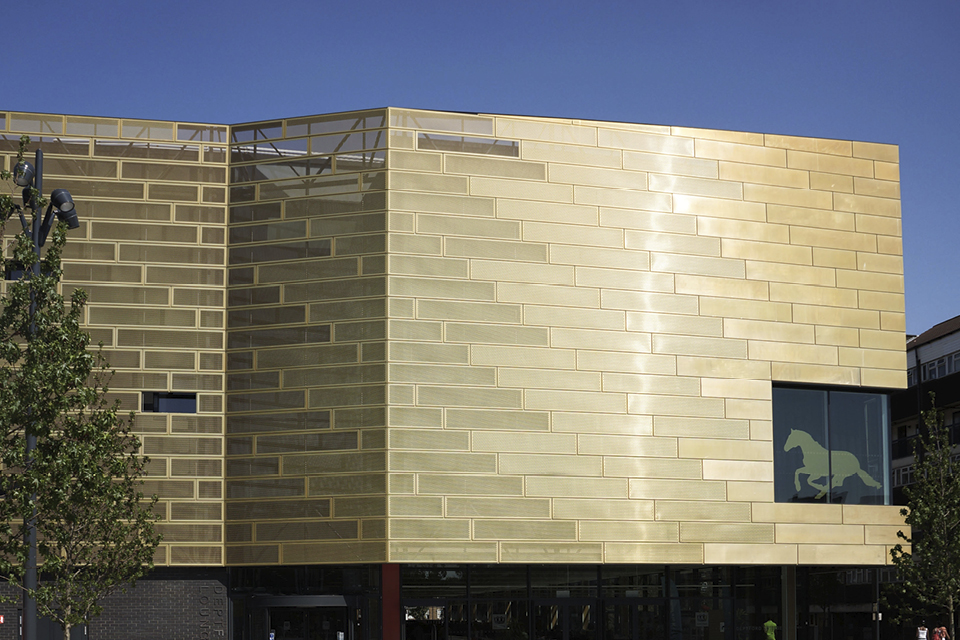 Historic references
For the golden wrapping applied to the facades, rigid folded cassettes of Nordic Royal copper alloy provide sharp, clean joints between clearly defined panels. These are set-out in a stretcher bond pattern, referencing historic timber hull construction in ship-building associated with Deptford, located on the south bank of the River Thames. Different levels of perforation are used so that the transparency of the wrapping adds another dimension with the play of light.
PTEa project architect Hamish Kilford-Brown said: "From a distance the golden form appears solid but close-up reveals itself as transparent and light-weight, floating above its glazed base. On a functional level, the wrapping provides solar shading to the large areas of glazing, while also allowing suitable levels of light in.
"We sought an inspiring material, with reflective properties that would give the building a jewel-like quality set against its main street context. Copper and its alloys have sound sustainable credentials with exceptional durability and lifespan. The weathering characteristics of this copper alloy are important: the material is virtually maintenance free and provides a surface that will change very little over time."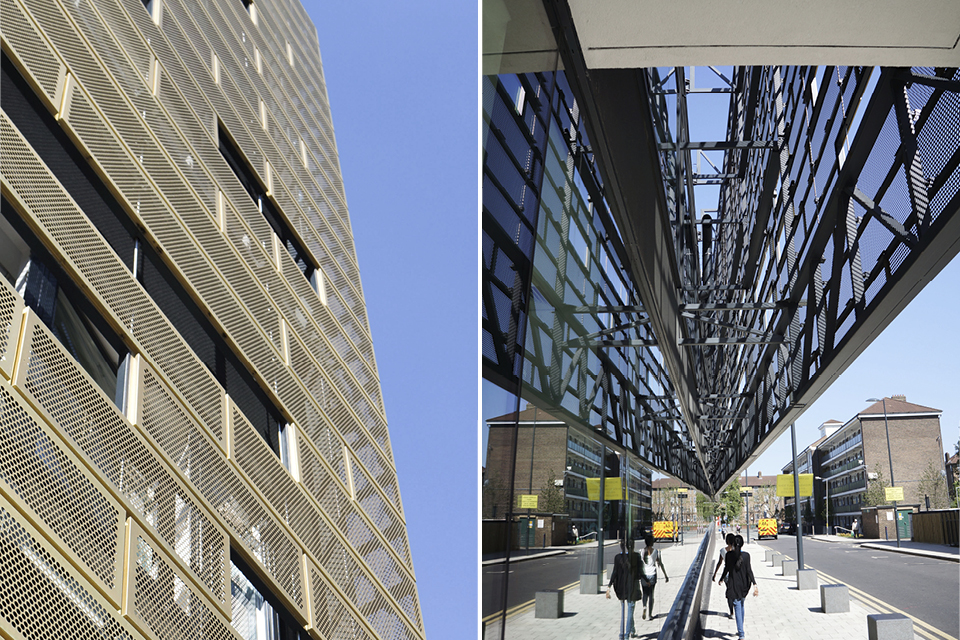 Golden colour retained
Nordic Royal is an innovative alloy of copper with aluminium and zinc, giving a rich golden through-colour that is very stable. The surface retains its golden colour and simply loses some of its sheen as the oxide layer thickens with exposure to the atmosphere, resulting in a protective matt finish. It behaves differently to other Nordic Copper products over time and does not develop a blue or green patina.
Discover Nordic Copper
Other Nordic Copper alloys include Nordic Bronze and Nordic Brass – also available pre-weathered. Nordic Copper surfaces include Nordic Standard 'mill finish', as well as Nordic Brown pre-oxidised copper giving either light or dark brown oxidisation that otherwise takes time to develop in the environment.
Nordic Blue Nordic Green and Nordic Turquoise factory-applied patinas are also available – developed with properties and colours based on the same brochantite mineralogy found in natural patinas all over the world. As well as the solid blue or green patina colours, other intensities of patina flecks can be created revealing some of the dark oxidised background material giving a 'living' surface. A wide choice of Nordic Decor mechanically applied surface treatments is also available.