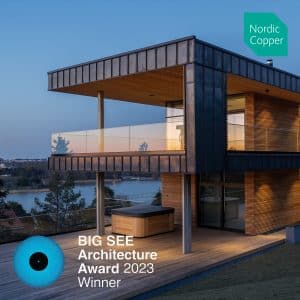 BIG SEE Architecture Award 2023 for Villa L3
Villa L3 in Turku, Finland, designed by SIGGE Architects and featuring Nordic Copper cladding, has won the prestigious BIG SEE Architecture Award 2023 in the residential category. The BIG SEE Architecture Awards ceremony took place in Ljubljana, Slovenia on May 19th 2023.
Villa L3 is a modern and clean-lined house that acknowledges the surrounding nature. The client's wish was to achieve not only an interesting appearance, but also a comfortable home that offers a natural marriage of everyday and holiday living. It was important to the client to obtain a simple and streamlined structure that would also age gracefully.
The second floor of Villa L3 is a completely open-plan living and dining space, encased in copper and affording spectacular views. In addition to the pre-oxidized copper cladding, the exterior incorporates larch battening to introduce architectural detail and create a warm ambiance.